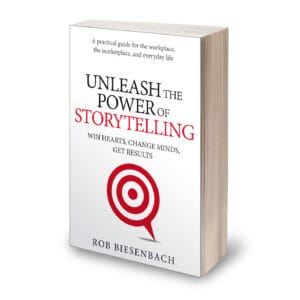 Today's the day! Your guide to using stories to advance your career, build your business and get more of what you want out of life is here!
Unleash the Power of Storytelling is now available in ebook and paperback (and soon, on audiobook, narrated by me).
I loved writing this book, and I hope you'll love reading it, too. It dives deep into the career- and life-changing lessons I teach in my most in-demand keynote sessions and workshops.
Why This Book?
The market is flooded with a dizzying array of books and resources on business storytelling. Do we need another? Yes. This one. (And possibly others.)
What I believe Unleash the Power of Storytelling does well is that it cuts through the hype to clarify and demystify the storytelling process. It goes beyond the theoretical, the general, and the institutional-level advice you often see. Instead it offers step-by-step instructions anyone can use to find, shape and tell powerful stories that get results.
What Can Storytelling Do for You?
Multiple studies confirm that stories have unparalleled power to break down walls, build trust, and influence people to act. More than facts and data alone, stories are the key to persuasion. A great story can help you:
Close a sale
Rally a team
Drive performance
Build a brand
Win a promotion
Wow an audience
Ace a job interview
And much more …
Who's it For?
Unleash the Power of Storytelling is the perfect resource for business owners, entrepreneurs, and executives who want to lead more effectively, motivate employees, strengthen customer relationships, build their brand, and communicate more persuasively.
What You'll Learn
The book offers a practical roadmap to help you:
Understand why stories work, with down-to-earth explanations of the science behind storytelling;
Use a simple three-part structure for crafting any story;
Follow a five-step process for uncovering the stories that are all around us;
Cut the clutter and focus your stories on the essentials;
See for yourself the power of stories through dozens of real-life examples;
Create stories for any occasion, from a presentation to a sales call to a wedding toast.
Praise for Unleash the Power of Storytelling
I'm thrilled with the feedback the book is already receiving:
PR and social media expert Shonali Burke calls it an "engaging, no-nonsense, and often extremely funny handbook … giving you precisely what you need to raise your business storytelling to an art form."
Gini Dietrich, founder and author of the highly influential "Spin Sucks" blog and book, says, "All the experts suggest you tell stories … [b]ut no one tells you how … After you read this book, you'll never again have to wonder 'but how?'"
Communications coach and author Dr. Nick Morgan says, "Storytelling is hard; just ask Ernest Hemingway. Rob Biesenbach makes it as easy as possible for you to become the Hemingway of your organization. In this book he reveals the secrets of good storytelling to help you create stories that command attention in this distracted age."
Get Your Copy Now
If you want a straightforward, hands-on guide that will load you up with tons of tips on storytelling … if you're looking for lessons you can use right away to become a more effective storyteller and communicator … and if you think a book about storytelling ought to be filled with good stories … then Unleash the Power of Storytelling is the book for you.
You can purchase it right now on Amazon, Barnes & Noble and iBooks. And watch for the audiobook — narrated by me — coming soon!