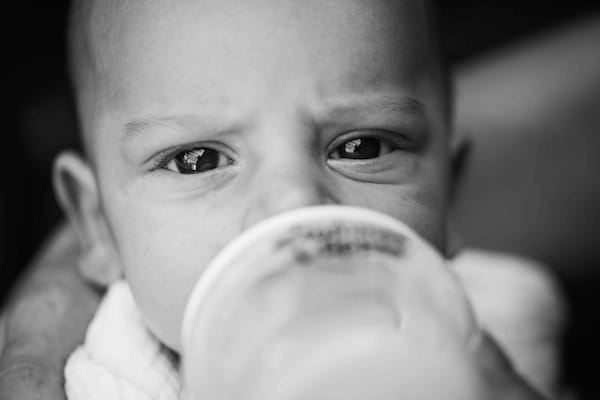 This week, Teddy turns three months old. And with Karen's return to work, it's also his first full week of day care.
For me that means I've got the house to myself again. It also spells the end of any dream I had to enter the lucrative and rewarding work of professional daddy blogging.
It was really tough saying goodbye as we sent him off to Baby Jail, as I call it (to Karen's consternation). We three had a wonderful summer together, taking evening walks, going on road trips, having dinner out (he's a regular man about town).
Everybody says "don't blink or you'll miss it," but I don't feel like we missed a thing — we've treasured (nearly) every moment, and I'm so glad I was around to be a part of it.
Back on the Train
So now I'm getting back to a normal routine. Even though I've been working for real since August, it's different with a newborn in the house. Karen needed the occasional break and, let's face it, a baby's a fun distraction from the everyday annoyances of workaday life.
This summer I had just two work priorities: serving my speaking clients and serving my consulting clients (with the occasional acting audition thrown into the mix). All the "extra" stuff was put on hold: social media, blogging, industry reading, etc. All of that became Teddy time.
And I'll tell you what: it's been a relief. Right now there are 612 unread blog posts in my feed. Pretty sure I'm not going to get to them. Going forward, I realize that I do not need to read 50 marketing and PR blog posts a day. Many of them just say the same thing over and over anyway.
And they mostly promote a sense of constant panic — "17 ABSOLUTELY ESSENTIAL THINGS YOU MUST BE DOING RIGHT NOW TO MARKET YOUR BUSINESS OR YOU WILL UTTERLY FAIL AND BE THE SHAME OF THE INTERNET!!!!"
So I'm going to do some pruning and focus on the ones that I really enjoy and that really help, versus those that feel like an obligation.
Working Smarter, Prioritizing and Focusing
I've learned to forgive myself if I don't blog every week or send my monthly email on time or tweet five times a day. Besides, the people who might read my thoughts are going through the same thing I am — content overload. I would never be so vain to assume my absence would rock the Internet.
So I'm coming back. More focused and with my priorities in order. Probably not working nights and weekends as much, unless Teddy's asleep, or out and about to what I'm sure will be many, many social engagements. I've already found that I work a little faster and smarter with the time I do have. Everything else will just have to work itself out.
Teddy Time
This kid is a blast. He's a serious talker, always with the jibber-jabber. He's strong — standing himself right up in our laps. Yet he's graceful — gesturing with his arms and hands and long, slender fingers like a maestro or a dancer. He just started smiling and it's absolute … magic.
And when I'm out running around, going to meetings and auditions or doing speeches and other stuff, and I'm on the train coming home, knowing I get to see this little guy makes me feel so incredibly happy. I highly recommend it.