Get Your Virtual Presentation Checklist
Packed With 35 Indispensable Tips
Feeling Frustrated and Looking for Help?
Online presentations are hard. Doing them from home is even harder, with all the distractions and technical hurdles we face.
If you've watched Rob's Virtual Presentation Crash Course, you're also going to want this handy checklist that captures all the key points from the video — 35 tips in all.
It covers the essentials of developing sharp, compelling content and delivering it in an engaging manner. It also guides you through some of the technical and other hurdles of presenting remotely.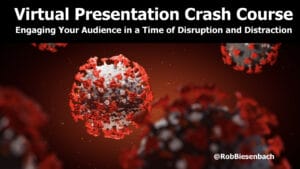 Watch Now
Download Your Checklist Now
Want to feel more prepared, comfortable and confident every time you present online?
Get your checklist here:
By requesting the checklist you'll also start receiving Rob's monthly email, which is full of tips on presentations, storytelling and other communication skills — both from Rob and from experts he admires.
You are free to unsubscribe from the email at any time, of course, but don't worry: Rob will NOT be flooding your inbox with promotions and offers. He hates those, too.