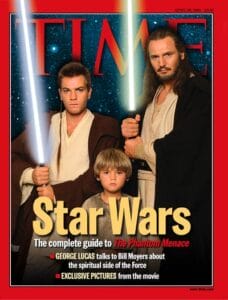 Remember 1999? It was a magical time:
The dot-com boom promised an unbroken era of universal prosperity.
George Lucas introduced us to Jar Jar Binks, destined to be an all-time fan favorite.
And PowerPoint 2000 was released, ushering in a Golden Age of Business Oratory.
Yeah, not so much.
Maybe Prince was right. Party over, out of time.
Amazingly, even Microsoft's addition of a sparkling new feature that allowed users to view their slide, outline and notes all in one window (!) failed to put an end to Death by PowerPoint.
Are you part of the problem? Are you still presenting like it's 1999? Or 1989, for that matter?
Take this quiz and find out.
Test Your Presentation Skills
Do you kick things off by telling the audience about yourself? Stop. Audiences care less about you than what you can do for them.
Do you believe it's not what you say, but how you say it that counts? Wrong. Don't let myths about body language skew your priorities. Your content is just as important as your delivery technique.
On the other hand, is your presentation stuffed with information? Be careful. As a presenter, you are more than an information delivery vehicle. Try to focus your content on the essentials.
Do you think facts and evidence are the keys to persuasion? Think again. An emotional appeal is more effective in changing people's minds.
Are you a different person at the podium than in everyday life? You're doing it wrong. In an age of transparency, there's no room for split personalities. When presenting, be yourself (albeit the best version of yourself).
Are your slides too wordy? Choose 10 slides in your presentation, count the words, and figure out the average number of words per slide. Is it five or more? If so you may have a problem. Bullets kill and visuals rule — science says so.
When things go wrong, do you blame everyone but yourself — the setup, the audience or the weather? Sorry, it's your responsibility to set the tone by projecting mental, emotional and physical energy.
Do you often find yourself racing the clock, powering through your last slides? That's a sign of poor preparation. Plan ahead, time your presentation to the minute, and leave a little cushion.
Do you save Q&A for the end? Don't. You should end on your message, not someone else's. Intersperse Q&A throughout or do it just before your conclusion.
How Did You Do?
Did any of these questions challenge your assumptions about how to deliver an effective presentation? If so, don't be discouraged.
TED talks have shifted audience expectations and raised the bar for speakers of every kind. Audiences today expect to be entertained on the way to being informed — with story, humor and surprise. Subject matter expertise is simply not enough to grab and hold people's attention these days.
So even if you're a seasoned presenter, it pays to keep on top of the trends in order to stay relevant. And even if you're already a solid communicator that doesn't mean you're also a natural public speaker.
What You Can Do to Improve
Here are three things you can do right now to improve your presentation skills:
Watch TED Talks. Most of us don't typically do TED-style presentations. But see what you can learn about the use of story, tight structure, compelling visuals and energetic delivery.
Join Toastmasters. Find a group near you. You'll get a chance to practice your skills regularly and get instant feedback from others.
Invest in training or coaching. There really is no substitute for intensive, sustained learning tailored to your needs.
Any or all of these resources will bring your skills into the 21st century and help you truly rock the stage. But there's one more thing you can do …
Join Me for a Special Presentation Skills Workshop
I will be conducting a special presentation skills workshop this summer where I'll be delivering the kind of personalized attention and feedback that usually only my private clients get.
Called Connect & Compel: Mastering Your Presentations in the TED Talk Era, it's part of the annual World Conference for the International Association of Business Communicators. And it's happening in my home-town of Chicago — one of the best cities on the planet!
Not only will I be offering my latest tips on how to become a more powerful, persuasive — and modern — presenter, but I'll be putting selected volunteers in the hot seat. Come armed with a 2-minute presentation (or create one on the spot), deliver it in front of the group, and I will provide instant critique, identify areas for improvement and set you on the road to recovery.
Plus you'll have access to the conference itself, joining more than 1,000 communications professionals from around the world and have the opportunity to learn from dozens of breakouts, workshops and keynotes. It's a great group of people, offering plentiful opportunities for networking, professional development and fun.
Leave 1999 Behind
Whatever you do for a living, the ability to express your ideas in clear and compelling terms is absolutely essential to success.
A great presentation can help you grow your business, close more sales, get your programs and budgets approved, lead people more effectively, win over investors, build your reputation and influence, sway a skeptic, advance your career and more.
So join the party. Stop presenting like it's 1999 and get with the proverbial program.
I hope to see you in June!
[This post is adapted from an article that first appeared in the CW Observer.]