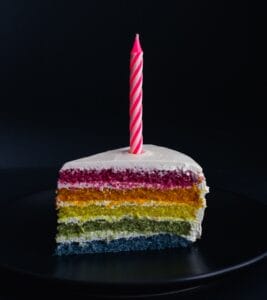 Hard to believe it was a year ago today that Unleash the Power of Storytelling was unleashed on the world.
My latest book has not only exceeded my expectations, but it's also exceeded the sales of my first two books combined. (Which says something either about the high level of interest in storytelling or the quality of those first two!)
And the momentum has been sustained throughout the year — it continues to rank in the top 10 in a key Amazon category. 
Learning Through Sharing
So I'm thrilled at the results, the five-star reviews, and all the kind words about it that people have shared with me. But I'm also having a lot of fun sharing what I know with others, whether it's readers, audience members at my speeches, or bloggers and other writers.
In fact, here are a couple of recent interviews I did around the anniversary: one with yourstory.com, where we dig into the ways entrepreneurs can use storytelling to fuel their growth, and the other with storyteller Brad Marley, where we focus on storytelling for business generally.
An unexpected bonus from these opportunities is that I'm not just passing along knowledge — I almost always learn something myself along the way. It's useful to hear the questions people have about storytelling — it sets my wheels turning in unexpected ways and leads to new insights.
The Growing Promise of "Micro" Stories
For instance, people often want to hear examples of notable corporate brand stories, and I've come to realize that those don't interest me that much. I feel like any decent company can hire a competent creative agency to capture heartwarming stories about customer loyalty or service excellence or employee commitment.
I'm much more interested in smaller-scale stories told by individuals, whether it's a leader trying to help employees deal with disruption, or a sales rep looking to earn a customer's trust, or an employee working to build their reputation in the workplace.
Those are the kinds of "micro" stories told every day by countless individuals across an organization — stories that together help move the enterprise forward in important ways, from advancing the culture to driving performance.
That, I think, is going to be a big emphasis of my work down the road.
Where to Go For More, and How to Help
In the meantime, if you haven't read the book, visit the Amazon page or your favorite online bookseller. It's an easy-to-follow guide to using stories to win hearts, change minds and get results — in the workplace, the marketplace and in everyday life.
That can mean:
Closing a sale
Rallying a team
Driving performance
Building a brand
Winning a promotion
Wowing an audience
Swaying a skeptic
Nailing a job interview
And much more …
And if you've already read the book and enjoyed it, why not let a friend or colleague know about it? Or write a review on Amazon. Customer reviews carry a lot of weight when it comes to book sales and spreading the word.
Here's to another great year of storytelling!
Photo by April Pethybridge on Unsplash