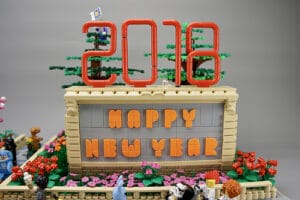 Ahhhh, nothing beats that new website smell!
Take a look around. I hope you like what you see. It's the product of eight months of blood, sweat and tears. Well, maybe not blood. At least none of mine. I can't speak for the programmers and designers.
But I think it effectively captures who I am right now and how I benefit clients — helping them communicate with purpose, power and impact so they can achieve their goals and enjoy more success.
You can read more here about my speaking, consulting and books, and how they can help you and your people become more confident, persuasive communicators.
An Ambitious 2017
It's possible I bit off a little more than I could chew last year. I set out to:
Create a new market positioning and graphic identity
Totally overhaul the website
Write a book
Have a baby
Develop new online learning courses
Four out of five aren't bad. I think if we didn't have Lily, I could have done those online learning courses. But she was worth the hit to my productivity. Definitely.
Here's to 2018
On tap for the new year: publication of my new book, Unleash the Power of Storytelling, coming in February. If you want to be among the first to know when it's released and get a discount off the purchase price, sign up here.
Then I'll be planning online courses that will extend the learning from my workshops and offer a more economical option for those looking to grow their business or advance their career by improving their presentation, storytelling and interpersonal communication skills.
Finally, I'll be emerging from my online/social media semi-blackout to do more consistent blogging, sharing, connecting and networking.