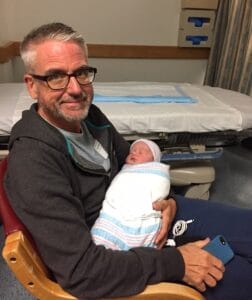 Oops, we did it again!
Biesenbaby 2 (aka, Lily) arrived on the scene at the end of July, which has put a serious dent in my productivity this summer, especially with helping run interference on Biesenbaby 1. Getting Teddy ready in the morning and taking him back and forth to daycare has turned my day into an actual 9-to-5 job (with occasional bouts of early morning or late night work when I'm not otherwise exhausted).
None of this helps as I finish up my new book, oversee the overhaul of my website and prepare for fall speaking engagements …
I looked back on what I wrote two years ago when Teddy entered the scene. This time around has not been quite as … revelatory. That's partly because we were dealing with the novelty and awe of having a brand new little live creature wholly dependent on us in the house.
Plus, Teddy hoodwinked us into letting him sleep ON us all day for three straight months, so I was inescapably immersed in that world. Lily is a little more accommodating — a trend I have every reason to believe will continue for decades — so things haven't been quite as intense (for me, anyway).
So I don't have much in the way of brand new revelations about humanity or life in general. Just these two observations:
The one surprise that I inexplicably failed to account for was the possibility that two children's moods and needs wouldn't always be in sync. So that's added a chaotic little wrinkle to things around here.
I definitely feel the weight of raising a girl in this world and at this specific time. There's already a lot of troubling mythos and ritual built around the father-daughter relationship in our society. I've got some half-formed thoughts on this that I may try to articulate at a later, more lucid, point, but right now the thing that sticks in my head is a onesie I saw that said, "A President, Not a Princess." I want to help raise a mighty girl.
Other than that, we're overjoyed by this new addition to our family. She's a good sleeper, a good eater and very good at that third thing newborns do. She has chubby cheeks, beautiful blue eyes (which I know may or may not last), and a thoughtful gaze that makes her look like a wise old sage at times.
And now that we have the "full set," I can say that this one is definitely, positively the last one. Of course, I said that the last time, but now at least I have Karen's clear verbal agreement, as opposed to the curious silence this pronouncement was met with last time.