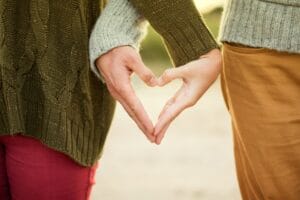 In my last post I talked about the importance of telling original stories. One of the best ways to be original is to tell personal stories derived from your own experience.
Some of my clients are reluctant to do this. They'll say that nobody wants to hear their stories. Which isn't true. Especially if you're a leader, audiences want to know who you are and what you stand for — and personal stories are the perfect way to communicate that.
Don't Let Fear Stop You
I actually think their concern goes deeper — beyond mere modesty to actual fear. Fear of appearing vulnerable, fear of rejection, fear of losing control.
The control issue is understandable. You should definitely make sure any personal story you share has been properly "processed." There was a point when I couldn't talk easily about my father's death, but the passage of time has made it more manageable.
As for the other fears, those are a matter of ego — worrying too much about your image and not enough about what your audience really needs: an authentic connection with you. In fact, I consider it a duty of leadership to open up and show that personal side.
One Caveat: Don't Make it ALL About You
Of course, it's important to keep in mind that a personal story is not necessarily a self-centered story. That is, it shouldn't be ALL about you. It should be relatable, with important lessons for people to take away.
That means there should be an audience-focused goal for your story beyond simply sharing or opening up. Your goal might be to:
Rally and motivate a team.
Give people hope for the future.
Guide their behavior or actions in a certain direction.
Get them to think differently.
Break down walls and show you're one of them.
And while you may be the central character in that story, you shouldn't necessarily cast yourself in the role of superhero. A little humility is in order.
How to Tap Your Personal Experience
Once you have your goal in mind, it may be helpful to think through some of these "story starters:"
What's the biggest challenge you've faced and how did you overcome it?
What's the best lesson you learned from a teacher, mentor or other influential person?
Who are your personal heroes and why?
What is it about your work or life that gives you the greatest satisfaction?
Was there a moment you knew this was the right job for you?
How do you feel you're making a difference in the world in ways large or small?
What did you want to be when you were growing up, and how does that square with what you're doing now?
If you have children, what do they think you do?
These questions can provide the spark for your story. To develop it further, check out the links at the end of this post.
Watch the Video
Here is a short (1:19) video on the importance of telling personal stories from a recent presentation I did. (Transcript below the video.)
Transcript of the Video
And finally, get personal. The best stories are the ones you've personally experienced, because:
They're much more likely to be original; and
If it's a story that you've gone through, you are more likely to be connected to it. And if you're connected to the material your audience is going to be more likely to be connected to you.
And some people hesitate … to do this … many of my clients are with Midwestern companies — traditional, old-line manufacturers, insurance. They're good people. They're wholesome, they're down to earth. They don't necessarily like talking about themselves — they're a little self-effacing.
And so sometimes they're reluctant to share their personal stories, out of a sense of modesty — [for] others it's a sense of false modesty. Others it's a fear [that] if you get too personal, you'll go too far — and when you do tell a personal story, it should be one that you've properly processed so you can actually get through it in front of an audience.
I always urge my clients and I urge you, and urge you to urge your clients to let go of that fear and open up. Because it is irresistible — people want to know who you really are, and stories are the best way to demonstrate that.
For More Help on Storytelling
If you want to know more about putting together the right story for your audience, here is a simple formula for constructing any story, another video that helps bring the lessons to life, and a post on the importance of emotion in fueling stories.
(Image by Johan van den Berg via freeimages.com)