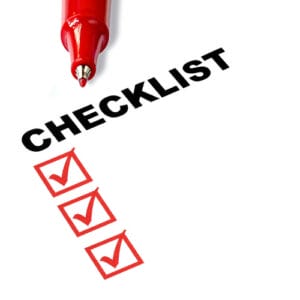 A smart presenter is prepared for absolutely anything. There are so many details to manage, some of which can make or break your presentation. Why leave anything to chance?
That's why I create checklists. Lots of checklists. I have checklists for:
Things to do months and weeks in advance (research audience, create handouts, confirm logistics …)
Things to pack for the presentation the night before (adaptors, chargers, business cards …)
Things to do on-site when I get to the venue (connect the computer, set out materials, silence my phone …)
Here are five items from my checklists. Some are big, some are small, but all are important.
Reboot Your Computer
There's a reason the first question that tech support people ask when something goes wrong with your computer is, "Did you try rebooting it?" It's because the longer you keep it running without a reboot, the more bogged down and buggy your system gets.
I'm terrible at this. I can go a week or more without doing a full system restart. But I always, always, always reboot just before a presentation.
This reduces the risk of a system crash, improves my chances of an error-free experience, and ensures that there aren't a bunch of other programs running, like messaging apps, that can interfere at showtime.
Hey, and while you're at it, clean off that desktop! Especially if you have personal or embarrassing files sitting there.
Create Multiple Redundant Backups
Before heading to the venue, I always create multiple redundant backups of the presentation file. Here is my system:
First, I like to use my own computer whenever possible. That ensures the presentation looks exactly the way I want it to look. So it's stored on my hard drive, obviously. But what if my computer is lost, stolen or broken?
I also have the file (and all my files) backed up on the cloud. You can use Dropbox or Box or any number of systems for this. But what if I can't get online to retrieve the file from the cloud?
I have the file on a flash drive, which I always carry separately from the computer. Of course, this means I'll have to use someone else's computer. What if their system isn't compatible with mine?
On all devices and the cloud, I store the presentation in two different formats — Keynote for Mac and PowerPoint for PC. Just be prepared for the fact that fonts and spacing can get messed up when using a different system. Get there early and check it out. Now what happens if the projection system fails?
If for some reason I can't get my slides to work, I have one final option: I know it well enough that I can present without the slides. If you don't have time for that level of preparation, print out a hard copy to bring along.
Also, if you have multiple drafts of the presentation, be sure to mark the final one "FINAL." Version control is an issue I see a LOT.
No Longer on My List: Connect to WiFi
Connecting to WiFi used to be on my list, but not anymore. WiFi in hotels and conference centers is notoriously unreliable. If you're depending on WiFi to play videos from YouTube or demo a website, you're just asking for trouble.
Better to make your own copies of videos and embed them into your presentation and create "dummy" versions of websites that you can run offline.
Here's A Really Small (But Important) Thing: Take Off Your Nametag!
Yes, no item is too small to earn a spot on my checklists. But it's a good idea to remove your nametag, especially if a photographer is recording the proceedings. You might want to use those photos in your own marketing, and a badge can spoil them in several ways:
Most conference badges are big, ugly and distracting.
What if you want to speak to a competing organization or company and all they see on your website or materials or LinkedIn are photos of you with a great big badge advertising their competitor?
What if the badge is crooked? If you're like me, it will drive you crazy FOREVER.
The Single Most Important Item on My Checklist
Life is full of surprises (you heard it here first). And surprises can easily rattle you when you're preparing for a big presentation.
Maybe the room isn't configured the way you expected or the technology isn't working right or the turnout is less than predicted or they're running late and ask you to cut 20 minutes of your content.
Those are the kinds of things that can really throw you for a loop and cause you to lose focus.
So a couple of years ago I added a really important question to my on-site checklist: What was unexpected, and how will you account for it?
This question demands that I acknowledge the problem and deal with it constructively, instead of letting it fester and affect my mood.
Minimize Risks and Leave Nothing to Chance
Even when you've done something a hundred times, it's easy to forget a step. That's why I'm a big fan of lists. In fact, lately I've been thinking about creating another checklist.
After a speech, I've left behind more adaptors, chargers, cords and flash drives than I care to count. So I think a checklist of Things to Do When the Presentation's Over is in order!
Photo Credit: liz_rowell Flickr via Compfight cc