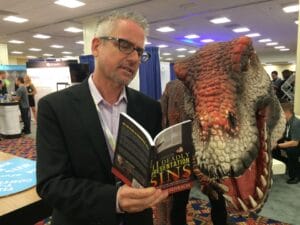 It was two years ago this week that I brought 11 Deadly Presentation Sins into this world and, just like that, Death by PowerPoint has been eradicated from the world's conference rooms and ballrooms.
Not actually … which is bad news for business people, but good news for continued book sales and workshop bookings!
11 Deadly Presentation Sins is the book that's so easy to understand, even a T-Rex (pictured) can follow it. It offers practical tips for overcoming the worst speaking habits, from meandering stories to mundane visuals, and offers a simple path to creating and delivering more powerful presentations.
Get 50% Off 11 Deadly Presentation Sins at Amazon
And right now, through the end of January, you can get the print and Kindle versions of 11 Deadly Presentation Sins for 50% off at Amazon. It's also available in audiobook (the price of which I can't control, unfortunately) as well as from other retailers, if that's your preference.
Or Try These Great Books By Other People
There are a lot of good books out there on presentation skills. So if you buy more than one, I recommend any of these:
Praise for 11 Deadly Presentation Sins
Here's what some other speaking experts have to say:
Rob has an easy going writing style that flows off the page … the book provides easy, practical advice on exactly what you need to do in order to become a better speaker.
– Dr. Jim Anderson, The Accidental Communicator

A joy to read, and a great reminder of many of the best strategies I've learned over the years. It would make a great airplane read, and makes a good primer for the newbie, and refresher for the crusty old expert.
– Rich Hopkins, Speak & Deliver

Chock full of actionable strategies and practical tips, this book will resonate with speakers of varying levels of experience. If you find yourself stuck coming up with stories, Chapter #4, Bad Storytelling, will get you moving. Biesenbach shares heart-warming examples and goes on to explain why they work. This explanation serves as a template for your next presentation."
– Stephanie Scotti, Professionally Speaking
Act Now, As They Say
After the 31st, prices go back up to $14.95 (print) and $9.99 (Kindle), so if you want the discount, act fast. Happy reading … and go out there and knock 'em dead!