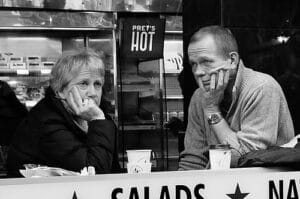 I've seen a ton of panel discussions, and according to my totally unscientific observation, most of them are deadly boring.
I was reminded of this yesterday when I got to see the rare good panel at a conference I'm attending (and where I'm also speaking).
Why Do So Many Panels Suck?
The big problem with panels is that the accountability for success is too diffuse. Panelists don't feel the same degree of responsibility that they'd feel if they were presenting on their own.
I was asked about panels at a recent talk, and this is my rant (in 1 minute, 21 seconds). After the video you can check out the 10 things panelists and moderators alike can do to ensure a panel's success. Because it is very much a mutual responsibility.
Things That Are the Moderator's Fault
1. You Haven't Prepped the Panel
Get together early with the panelists, by phone or webchat, to go over the objectives of the panel and walk through the main questions. Listen to the answers and offer direction on what you think works best and will resonate with the audience. Which brings us to our second tip.
2. You Don't Know the Audience
As with any presentation, if you don't know your audience, your panel discussion is doomed. Find out who they are and what their concerns, fears and objections are.
3. You Just Read a List of Questions
It's a conversation, not an interview. Don't stick slavishly to the script. Listen to the answers and see where the conversation leads by asking followups.
4. You Fail to Control the Conversation
Don't be afraid to jump in if your panelists wander off onto tangents. Keep the conversation focused on the subject matter. And work to give everyone equal time. Of course, also understand that people showed up to hear from the panelists — you're the moderator.
5. You Lack Energy
Energy is contagious, and the moderator has to set the tone. Be positive, enthusiastic, and put real conviction behind your words. To help with the panel's energy, consider dispensing with the usual setup of table and chairs — it's much too easy for panelists to sink back into their chairs and let their energy drain out. Put them on stools instead.
Things That Are the Panelists' Fault
6. You Don't Prepare
Don't assume because it's a panel that all you have to do is show up and answer questions. Do NOT wing it. Study the questions and prepare remarks ahead of time that are concise, coherent and compelling.
7. You Don't Use Stories
Stories stick; data does not. Find compelling and ORIGINAL stories that capture your points. Nothing beats stories for impact and memorability. Plus, they're far more entertaining to listen to, and there's nothing wrong with actually trying to entertain your audience!
8. You Wait to Talk Instead of Listening
You can't have a conversation if you're tuning out your fellow panelists and simply waiting to make your own points. Play off their remarks and refer to them in your own.
9. You Lack Energy
Sit up straight, on the edge of your chair, with your elbows on the table. If you're leaning back, it'll deplete your energy. And if you're not communicating passion and enthusiasm, how do you expect your audience to stay interested?
10. You're Not Provocative Enough
Come armed with a strong point of view and assert it. Ditch the corporate boilerplate. Audiences expect more surprises and spontaneity in a panel than with a "prepared" speech.
It All Starts with Good Panelists
One final problem with panels is often out of the hands of the moderator: it's the selection of speakers. Too often panelists are picked by someone else (or by a committee) based on their job title, industry position or expertise, without a lot of regard for their actual speaking skills.
Subject matter expertise is not enough if you don't have the presentation skills necessary to capture and hold your audience's interest.
Photo Credit: buckethandle via Compfight cc