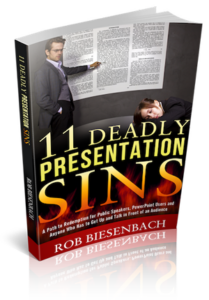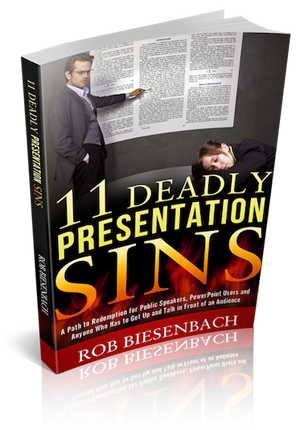 The day has come. My new book, 11 Deadly Presentation Sins, is here and on sale now at most of the usual places. Whether you're a regular public speaker, a hardcore PowerPoint user or an occasionally terrified presenter, this book offers your path to redemption.
The ability to present your ideas in clear and compelling terms is one of the most important skills to have—in business and in life. It's essential to getting buy-in for your ideas at work, selling to customers or motivating employees.
11 Deadly Presentation Sins is packed with more than 100 practical tips you can use to become a better presenter. You'll learn to connect with your audience, focus your content, beautify your slides, open and close with a bang and bring the necessary energy to your performance. And more …
As with my last book, my goal was to write the kind of business book I would want to read. Not a dense, heavy, data-filled tome, but a practical guide that's also fun—full of stories and evidence from the worlds of business and entertainment, from Steve Jobs to Star Trek.
What Others Are Saying
Early reaction has been very positive. Nick Morgan, a respected leader in the public speaking field, says:
We've all committed the 11 deadly presentation sins on the way up in our careers. This insightful book will help make sure that your way up doesn't become the way down!
And the first review, from Pivotal Public Speaking, had this to say:
If you want to build your own success as a speaker, use this book. I don't like books that tell you what NOT to do, and I feared that "deadly presentation sins" might do just that. I was mistaken, and happily so. The book is incredibly positive and encouraging. Rob provides the theory and the fundamentals of presentation success from energy to engagement, from storytelling to structure, from focus to visuals and much, much more.
More reviews are scheduled for the days and weeks ahead, along with guest blog posts and other fanfare.
How to Order
11 Deadly Presentation Sins is available in paperback and ebook on a variety of platforms: Amazon Kindle, Barnes & Noble's Nook and Kobo. (I'm still not entirely sure what Kobo is, but I'm told it's important, especially to our Canadian friends.)
More to come, including iBooks and, I'm very excited to say, an audiobook in which I summoned all of my acting powers to narrate myself!
Watch the Video
Here's the book in a two-minute nutshell. This is the intro to the presentation I've been giving to groups since last fall:
For More Information
Most of the book sites offer a free preview of the first chapter. You can also explore the main 11 Deadly Presentation Sins page, follow the latest testimonials and reviews, watch more videos and check out some of the expert sources I link to in the book.
From There to Here
It was eight months ago that I first laid out the 11 deadly presentation sins in a blog post. Though there were some weeks, especially in the production process, where I thought this day would never come, I couldn't be prouder of the finished product.
I hope you'll check it out and consider purchasing a copy for yourself or for the people in your life who do presentations.