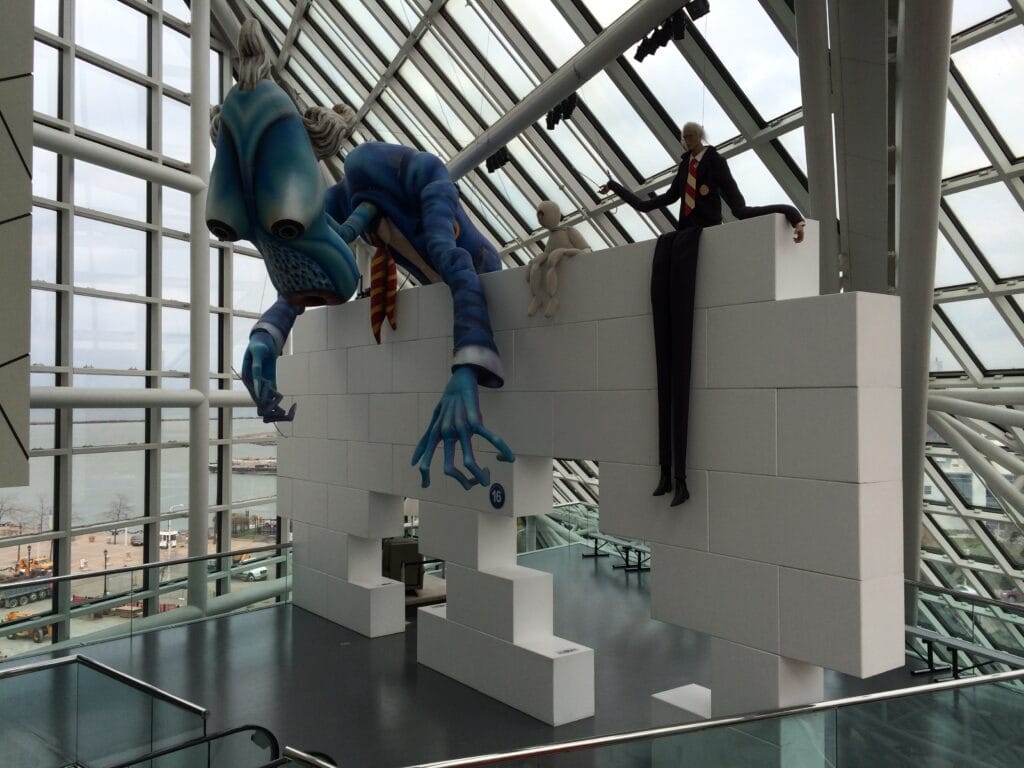 Last week I was in Cleveland visiting family and I finally got to see the Rock and Roll Hall of Fame (+Museum). I really did enjoy it and I appreciated what they did, but I came away feeling they could do a much, much better job telling the story of "the world's most powerful art form."
In too many places, the experience was … static is the word I keep coming back to. While other museums are creating truly immersive storytelling experiences, the Rock Hall seems at times stuck in another century, one populated by dusty old glass exhibit cases.
"Dead Stuff in Glass Boxes"
In fact, nearly the whole first floor of the museum is devoted to display after display filled with stage costumes, set lists, lyric sheets, instruments, correspondence and other artifacts. "Dead stuff in glass boxes," in the words of Bob Rogers, who created the Abraham Lincoln Library and Museum.
Some of it is cool, and I suppose a true aficionado might enjoy seeing Jimmy Page's double-necked guitar, but after your 27th orange double-knit jumpsuit, things start to run together. (Did that one belong to Elvis or Sly Stone?)
And while it was amusing to see the teeny little half-shirts Keith Richards slithered into back in the 70s, I'd rather see the amazing costumes worn by KISS, Elton John and David Bowie (beyond the rather modest suits they had from his latter, less flamboyant period).
You Call This Interaction?
On another floor, a bank of kiosks promised an "interactive" experience, yet they were really just glorified juke boxes, allowing you to play selected songs. I can do that on my iPhone through iTunes, YouTube or Spotify.
What about, for instance, an explanation of the seminal Bo Diddley Beat, with samples of the many artists from The Who to U2 who have incorporated it into their songs?
Upstairs in the temporary Rolling Stones exhibit, they make a pass at this, with a small exhibit on three key eras for the group, marked by guitarists Brian Jones, Mick Taylor and Ron Wood. It allows you to listen to songs that exemplify each guitarist's unique style, but after a while I just snapped a photo of one of the song lists and made a note to listen later on my iTunes.
What They Did Right
It wasn't all uninspired. Of course, the I.M. Pei-designed pyramid makes a beautiful home. The staff are all clad in black like roadies, which is a nice touch. And they have some excellent video.
One very moving film traces the history of rock and roll as it migrated from the cotton fields and gospel churches of the south up the Mississippi to the urban centers of Memphis, Detroit and New York. The best part of that film? No narration. They let the music tell the story.
Other archival footage from concerts and interviews as well as past induction ceremonies are interesting.
A Symbol of What's Wrong
But my problem with the museum was best illustrated by the great big set piece from Pink Floyd's The Wall tour (pictured above). On it was a sign warning you to stay off of it. Understandable, I suppose, but not very rock and roll.
What Could They Do Instead?
Okay, if I'm so smart, what would I do differently? I'd make it more interactive, allowing visitors to truly immerse themselves in the experience and have some fun. I admit these are unconstrained by budget or physical limitations, but how about these ideas:
A 3D "holodeck"-type experience, where you could step on "stage" and look out on a virtual arena of screaming fans, allowing you to feel what it's like to be rock star.
A recreation of the interior of CBGB or the Mud Club, complete with the smell of beer and sweat and the sounds and images of 70s-era Blondie, the Ramones and Talking Heads.
A mocked up recording studio where you play producer, adjusting the sound of your favorite hits on a mixing console.
A jam room where you can pick up and play actual instruments—replicas of the ones your favorite artists use.
A karaoke-style room where you and your friends could dress up as your favorite band and lip sync and "play" along in front of a green screen, even creating a video you could upload to Facebook.
Buzzfeed-style exhibits like Rock and Roll's 10 Biggest Moments (the Beatles on the Abbey Road rooftop, the Stones at Altamont, etc.) or 10 Biggest Myths (no, Ozzie didn't bite the head off that bat and Gene Simmons didn't have a cow's tongue sewn onto his) or 10 Nastiest Feuds (Mick vs. Keith, Axel vs. Slash, Liam Gallagher vs. Everybody).
Build It and They Will Come
Maybe these ideas are are more suited for a theme park than a museum. Perhaps they're not reverent enough. But this is rock and roll, after all. It should be big and crazy and messy. It should tell the story brashly and loudly and proudly, with no apologies.
But then, I was always a KISS fan.