When you drive nearly 1,800 miles in four days, comic relief is a welcome part of any road trip.
On a holiday weekend swing through the southland, Elvis Presley's Graceland provided an unexpected moment of laughter. And it wasn't just his sideburns or his jumpsuits or his carpeted kitchen — I'm talking intentional humor, right there in the visitor's center: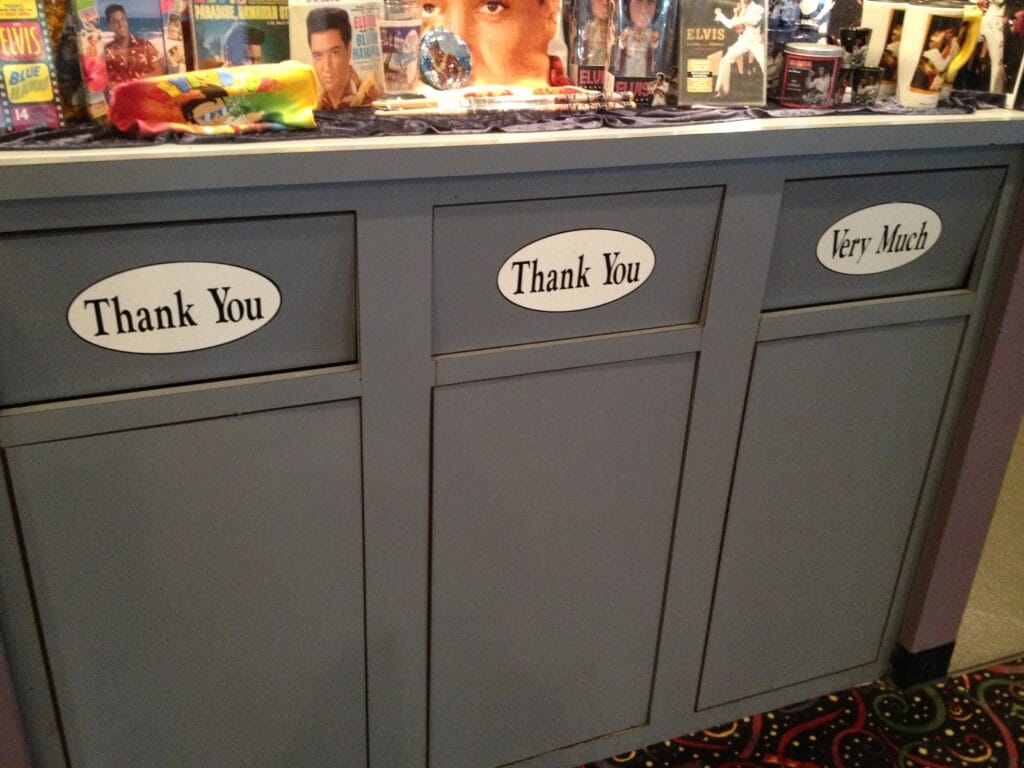 I'm a sucker for great signage, funny and otherwise, so it's pretty cool that an institution devoted to promoting the legacy of a figure who's non-ironically known as The King would take a light and playful approach like this.
And that's an important lesson for any organization (and any person): humor — especially the self-deprecating kind — humanizes us. And people like to deal and do business with actual people, not faceless institutions.
Graceland is just one of the many sites we saw,  some of them sobering (the National Civil Rights Museum in Memphis, the Trail of Tears), some outrageous (Beale Street) and much of it inspiring (Onondaga Caves and the Ozark Mountains).
In the humor category, there was this restaurant in Tahlequah, Oklahoma:
I'd like to think they have a sister establishment somewhere called Strick and Ose's.
Speaking of restaurants, we stopped by a legendary establishment in Missouri called Lambert's Cafe, home of the "throwed roll" [sic]. The food was okay — down-home Southern cooking and bbq — but most people come for the floor show.
Per their slogan, they really do throw rolls. This guy walks around with a batch straight from the oven and when customers raise a hand he tosses them a hot one. (And, yes, he wears gloves — I made sure of that.)
This is America, people. We went looking for it and, by gosh, we found it.