It seems one of the greatest anxieties people have about public speaking is coming up with something funny to say in the introduction. But here's a crazy secret the comedy professionals won't tell you: you don't have to be a funny person to be funny.
(And you don't even have to be funny, of course. There are lots of ways to start a speech — with a story or by throwing out a question or doing some audience participation. But let's assume you're looking to break the ice with a little humor.)
Don't Tell Jokes
I was asked about this yesterday at a speech I gave in Denver, and I offered the advice I often give. First off, don't go searching for some contrived joke out of a joke book or off the Internet. That's risky. Even if the audience hasn't heard it before, there's a chance you'll blow the delivery if you're not accustomed to telling jokes.
What's more, the joke will lack context. It'll be irrelevant to your topic, your audience, the event or venue
So instead of starting your speech with a joke, just tell the truth.
Search for Everyday Truths
Comedy is derived from truth. It's about the everyday details of life that we can all relate to. (I offer a few tips here on how to make the most of these little moments through exaggeration, specificity, topical references and other classic comedy techniques.)
And though it may sound like a cliche, the simplest, easiest thing to do is the old, "A funny thing happened to me on the way to the conference …" Seriously.
Of the 150 people in that room yesterday, I guarantee every one of them had some interesting or odd experience in traffic or on the plane or at baggage claim or the buffet table. Or they had some trouble with room service or with the thermostat or the plumbing in their hotel room or the door's pass key.
These are the little life experiences that everyone can relate to. They will naturally trigger a moment of recognition. As Homer Simpson once said, "He's saying what I'm thinking!"
How I Did It
When I left for this conference on Friday, I didn't have a specific opening ready for this group. I had a standard one that would do just fine, but I was hoping something would occur to me.
As it happens, I went skiing on Saturday and Sunday and ended up having a number of experiences that I knew an audience of people from Colorado and throughout the Western U.S. would relate to.
So I talked about the difficulty of getting back into the sport after a decade away ("Apparently it's not like riding a bike"), the uncomfortable equipment ("Whoever said it was the journey and not the destination never had to walk 500 yards across the shuttle lot in rented ski boots") and the surprising difference between a Black Diamond slope in Keystone, Colorado and one in Baraboo, Wisconsin.
They loved it. It was simple and relatable, relevant to the location, and full of specific details (again, specificity is key to comedy). Also, it used a classic "fish out of water" construct which immediately gets the audience on your side. Everyone at some point in their life has had the frustrating experience of feeling like an outsider or newcomer.
Don't Forget to Use Visuals
Remember, it's not all on you. A funny, surprising visual — or one that contrasts nicely with the point you're making — can do a lot of the comedy legwork for you.  I introduced the topic of skiing with this old photo of myself, telling the audience, "Here I am working hard on my form."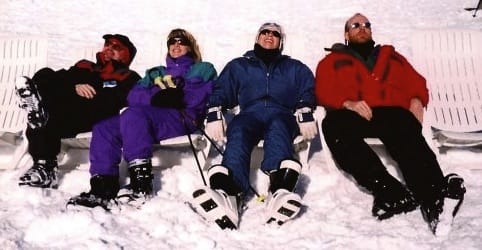 Observe, Observe, Observe
So in coming up with material for your introduction, put yourself in your audience's shoes. Look to the location or the event itself for clues about context. Think about what others have said or done — is there something there you can play off of?
And be mindful and observant of every little detail or experience. It's all right there in front of you, just waiting to be called out.