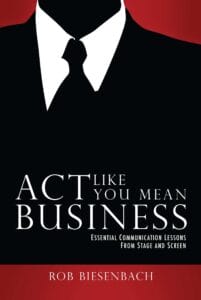 I'm not a big fan of traditional business books. I think I got to #4 in the 7 Habits of Highly Effective People before bailing. (Maybe that says something about my effectiveness.)
So when I set out to write my own book, I was determined to make it the kind of book I would want to read. Whether there's an audience of people like me remains to be seen, but early reviewers seem to be enjoying it — one called it "required reading for every Fortune 500 CEO."
Let's hope these CEOs have a sense of humor. The guiding principle behind the book is one I preach: if you seek first to entertain, then you've earned the right to inform.
Act Like You Mean Business offers hundreds of practical insights and tips that will help you lead more effectively by communicating more persuasively and creatively. Just as important, it does it in a fun, entertaining way, with plenty of anecdotes and examples from TV, the movies and theater. Everything from Annie Hall to Titanic, Kurosawa to Keyboard Cat, Mad Men to Mamet.
If you're interested, you can find it on Amazon or order it direct from the publisher, which saves us money, since Amazon takes a very large piece of the action. And we're offering a $5 discount through September.
Just click here to order and enter the code "alymb" to get your discount.
Still not convinced? See what others have to say. Read a sample chapter. Watch the videos.
You'll see that this is not your CFO's business book.